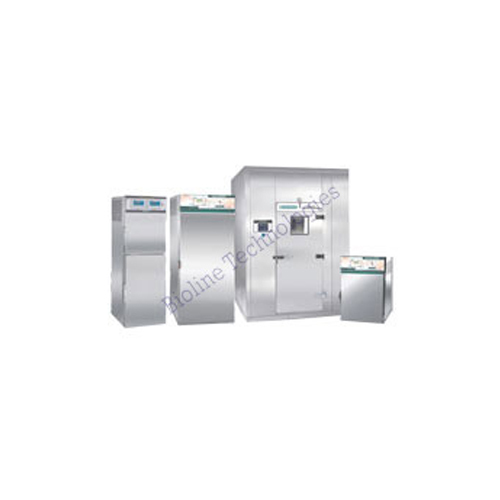 Cooling Incubator
Product Description
Incorporated with an aim to maintain high standard of quality, we are able to cater an unmatched quality Cooling Incubator. The offered incubator is manufactured by utilizing optimum quality of components and advanced technology as per defined market norms. Available in different technical specifications, this incubator is extensively used for BOD test, storage of sensitive cultures, vaccines, culture of bacteria microorganism and plat life. Clients can avail this Cooling Incubator in customized options also as per their specific needs
Features:
Flawless performance

Low power consumption

Noise-free operation

Less maintenance required
Further Details:
Temperature Range : 2°C to 8°C
Accuracy : ± 0.5°C
Temperature Uniformity : ±1.0°C
Exterior made of Mild Steel and Interior made of Stainless Steel. Exterior and Interior made of Stainless Steel(S).
Construction
This unit has double walled chamber, with PUF insulation. The unit is provided with perforated stainless steel trays for sample mounting. This unit has full-length inner glass door and outside metal door with magnetic gasket and lock. Forced air circulation for uniform temperature, with electronic time delay to safeguard compressor.
Temperature Control System
Temperature Controller with Ethernet Communication.
The unit works on 230 Volts AC and 50Hz mains supply.
Selection Guide
Exterior M.S. Powder Coated Interior S.S.

Exterior & Interior S.S

Capacity

Internal Dimension

External Dimension

Weight (Kg)

Tray

Cuft.

Ltrs.

HxWxD (mm)

HxWxD (mm)

Eqp

Shp

Nos.

(mm)

NEC 108RTCI

NEC 108RTCSI

8

200

600 x 600 x 600

1150 x 760 x 1045

200

275

2

560 x 560

NEC 112RTCI

NEC 112RTCSI

12

324

900 x 600 x 600

1450 x 760 x 1045

250

325

3

560 x 560

NEC 116RTCI

NEC 116RTCSI

16

430

1200 x 600 x 600

1795 x 760 x 1095

275

350

4

560 x 560

NEC 121RTCI

NEC 121RTCSI

21

600

1200 x 700 x 700

1795 x 860 x 1195

300

400

4

660 x 660

NEC 128RTCI

NEC 128RTCSI

28

800

1200 x 800 x 800

1795 x 960 x 1295

325

425

4

760 x 760

NEC 134RTCI

NEC 134RTCSI

34

1000

1500 x 800 x 800

2095 x 960 x 1295

350

450

5

760 x 760
Eqp - Equipment Shp – Shipping
Optional
Common Software: Chambers are connected on TCP/IP (Ethernet) with the centralized work station and transferring data in database. This centralized workstation provides the tool for viewing, trending and alarm management of chambers. It has date and time stamp audit trails and complies to US FDA 21 CFR Part 11.
Temperature Scanner: 4 point scanner for temperature having 4 temperature probes provided with alarms to monitor various parts of equipment.
Stand by Cooling System (Auto Switch Over): A fully functional cooling system can be provided as standby. It comes in operation automatically when the regular system fails to function.
Door Access System: The door access system restricts access to the chamber to authorized persons only. In this system a physical lock is provided additional to this password access control is provided. Maximum six users can access the chamber.
Remote Alarm System: Alarm for Temperature & Humidity deviations. Indicator LED to identify equipment deviation. Alarm hooter test push button.
Mobile Alert System Suitable for Newtronic Equipments whenever the alarm is generated by the system the user has to acknowledge the alarm with in predetermined time. If the user fails to acknowledge the alarm will send as a sms to 6 predefined numbers.