Blood Bank Scale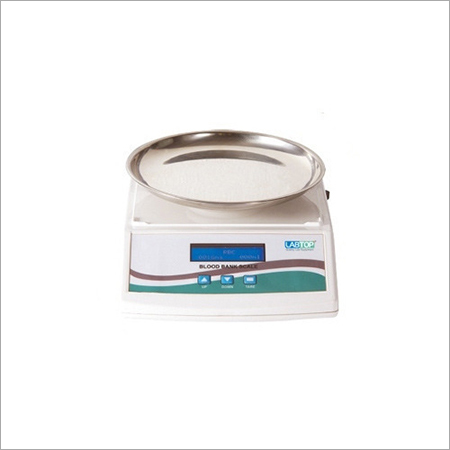 Blood Bank Scale
Price And Quantity
Product Specifications
Product Description
Micro controller based Blood Bank Scale is designed for weighing Blood and blood Components. It can accurately measure the volume of blood components as the specific
gravity of all components is taken into consideration. The equipment is calibrated with the help of master calibrator, which is certified for its accuracy by Electronics Regional Testing Laboratory (ERTL West) Government of India recognized testing laboratory with traceable reference to National Physical Laboratories (NPL).
Special Features
LCD display, displays the weight and volume with an accuracy of 1 gm/ml.
Accessories makes it reliable & excellent.
Easy conversion of weight to volume.
Tare provision to account for the weight of the blood bag.
Compact model
ABS moulded body.
Display volume and weight of blood components.
Auto Calibration.
Over load indication.
Technical Specification
| | | |
| --- | --- | --- |
| Catalogue No | JAS-1 | JAS-2 |
| Input Voltage | 230 VAC | 230 VAC |
| Power Supply | SMPS | SMPS |
| Transduce | Loadcell | Loadcell |
| Weighing Range | 1 kg. | 1 kg. |
| Accuracy | 1gm./1ml. | 1gm./1ml. |
| Calibration | Auto | Auto |
| Display | LCD | LCD |
| Weight | 1.5 kg. | 2 kg. |
| Interface | ----- | LPE-1E (Plasm |
| Capacity | ----- | 4 Kg. |